How to add an "Other…" email account to your iPhone
by: Bruce Schmoetzer
Last updated: Last updated: February 22, 2016 at 17:08 pm
Most of us are familiar with free email from: Gmail, Yahoo, Hotmail, etc.  However, most corporate email systems are maintained internally with their own servers.  Which can make adding a new email account interesting.  This article attempts to show step-by-step instructions for setting up IMAP or POP email accounts on your iPhone and/or iPad.
Assumptions:
– you are using iOS 9.x
Information you will need from the IT/Email team:
– your new email address:
– the password:
– Incoming Server (host) name:
– Outgoing Server (host) name:
Let's get this show on the road!
Find the Settings app on your iPhone
Scroll down & tap on Mail, Contacts & Calendars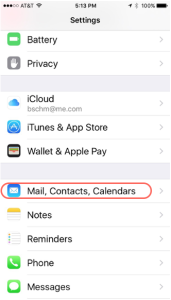 Type Name, Email (address), Password (provided by IT), Description (what shows in the Mail app on the phone)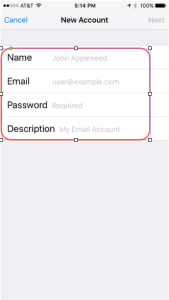 (sample information)

Here is where you need to make a choice: IMAP or POP.  How to choose?  Since I have my email on my iPhone, iPad & iMac, I go with IMAP.  It keeps my emails in sync.  If I delete an email on my iPhone, it is deleted on the iPad and the iMac. And vice versa.  If you would like know more about IMAP & POP there are articles on Wikipedia: IMAP vs POP
Type in the additional information required, Incoming server host name, User Name (aka your email address) & Outgoing server host name.  Everything else is typically optional.


Then tap the Next button.
Then a bunch of green checkmarks will appear on the right side of the screen as it checks to be sure everything is working.  Then the screen slides back to:


Tap Save
Almost there!  Because we chose IMAP, there are just a few more steps to make sure everything works together correctly.  We have to set the Sent, Trash & Drafts mailboxes to reside on the server:
Go back to the Account screen
Tap the Advanced > line

Change from "ON MY IPHONE" to ON THE SERVER (1)


Tap Advanced (2) to return to the Mailbox Behaviors screen
Returning to the Mailbox Behaviors screen each time.
Last but not least, we need to set Trash to be deleted regularly so that the server does not become bogged down. So,
Tap Remove >

Choose how often the Trash on the server should be purged.  My opinion is that it should be at least "After one week" if not more often.
Then back al the way out to the Mail, Contacts & Calendars screen tapping any "Save" buttons along the way.
I hope you found this article helpful.